Rev Up Reading provides specific instructional kits for teaching Comprehension, Vocabulary, and Fluency, using high-interest, low-readability cards. Short, exciting stories are followed by questions for the students to answer on vocabulary, comprehension, writing and further research.
The four-page cards provide much needed fluency practice for students acquiring English and motivation for struggling readers. There are 15 factual and 15 fiction cards in each set.
Also available is an audio version of the printed cards. The cards are specially recorded to provide support for readers. They are an excellent resource for second-language learners who need to hear the English language at the same time as reading. The audio books are also excellent for promoting fluency with your non-fluent readers. All titles in a Set are featured on 1-2 audio Cds.
Click on the buttons below to learn about the products in the Rev Up Reading series:
SAMPLE CARD
(click card to download)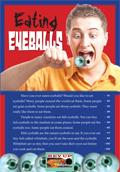 Rev Up Action Card Set 1